Overview
The Victorian Government asked the Essential Services Commission (via an order in council) to set a maximum price for exempt sellers. This will help Victorians in embedded networks get a fairer electricity price. The commission released its final decision on the maximum prices exempt sellers may charge customers in embedded networks on 28 July 2020.
Consultation on this project has now closed.

Some electricity sellers are exempt from requiring a retail licence. Generally exempt sellers buy electricity at a 'gate' meter, on selling it to individual customers. Exempt seller also refers to people who supply electricity in an embedded network.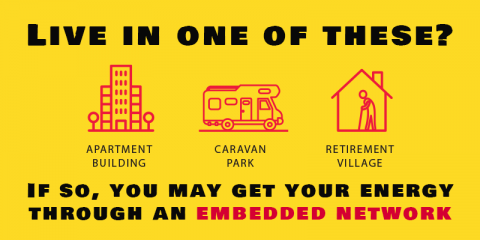 Exempt sellers who sell electricity to residential and small business customers through an embedded network may include caravan parks, retirement villages, shopping centres, apartment buildings, rooming houses.
How does this affect you?
All Victorians now have access to a fairer electricity deal with the Victorian Default Offer being set as the new maximum price for electricity sold to embedded network customers. The decision, made by the Essential Services Commission, means around 104,000 residential, caravan park and retirement village customers and 14,400 small business customers in embedded networks could save hundreds of dollars a year on bills.
How we engaged
In February 2020, the commission released its consultation paper on the maximum prices that embedded networks and other exempt sellers may charge customers. The consultation paper sought feedback from stakeholders whether the Victorian Default Offer should form the basis of a maximum price for embedded networks. The commission also wanted to know if there was any other information that should be considered and encouraged stakeholders to make submissions to the process. In response the commission received 34 submissions which its the draft decision. The commission consulted on its draft decision between May and June 2020.
The commission asked stakeholders to engage with it and provide views on the draft decision via this Engage Victoria page. Interested parties could post a question and receive a public response from the project team. Stakeholders could also provide a general comment or make a formal submission on our draft decision. The commission held an online public forum on 28 May 2020 which was attended by more than 50 stakeholders, who provided feedback and submitted questions on the draft decision.

What we did with your feedback
Stakeholder feedback and submissions were critical in the development of our final decision. We considered the views set out in submissions and sought clarity from stakeholders where needed.

Key facts from the final decision
From 1 September 2020 the maximum price for residential and small business customers (those consuming no more than 40 megawatt hours of electricity per year) within embedded networks will be set at the level of the Victorian Default Offer – reducing the maximum prices that can be charged to most customers.

Watch our online public forum
View our public forum slides
Our virtual public forum
Closed
Activity closed 15/06/2020 at 11:59 PM
You can ask us questions or provide us with feedback for us to respond to. We will try to reply within 3 business days. All questions will be reviewed for offensive content before being published.
About us
The Essential Services Commission is an independent regulator that promotes the long term interests of Victorian consumers with respect to the price, quality and reliability of essential services. We regulate Victoria's energy, water and transport sectors, and administer the local government Fair Go Rates system.